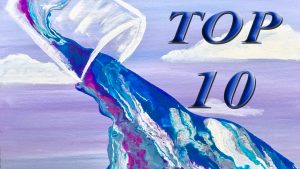 Top 10 Tips and Hacks You May Not Know for Fluid Acrylic Painting that make being a beginner to fluid acrylic painting so much easier! (Remember to Subscribe – its always Free ) https://www.youtube.com/user/sbergeron00)
The List below is just the quick subject list–not the full information in each of the topics. I have little tricks and tips within many of these items! Watch the video to find out more!
1. Protect Your Surfaces
2. Use a scale
3. Sharpie Pen
4. Mixing Containers
5. Paints?
6. Jumbo craft sticks
7. Pouring Mediums
8. Surfaces to paint on
9. Nitrile Gloves are your best friend!
10. What is a dirty cup?
11. My thoughts on Silicone
Health and Safety:
Floetrol:
Material Safety Data Sheet for this product says don't Heat it as it can emit harmful fumes if heated- (Section 2 )click link for more safety information http://bit.ly/2szggeo
Silicone – Lubricant: can prevent adhesion of paint to the substrate :http://www.justpaint.org/understandin…
Using Artist Paints: https://www.usa829.org/Portals/0/Docu…
I have a creative spirit that loves to explore and experiment with all kinds of Arts and Craft! I hope you have fun while you join me on my creative adventures!
Make sure you have clicked that Subscribe button and the Bell so you will be notified when new videos go up! Fun things are planned and I hope you will be a part of them!
The most important things you need to be successful with any of my creative projects are the willingness to learn and to be easy on yourself as you are learning. We tend to be our worst critics and we need to learn to be kind to ourselves.
I love the community that we are building here. We are caring and supportive of all levels of crafters, makers and Artists.
We have a great group on Facebook Come and join us!
Music: Http://purple-planet.com
"Groundwork" Kevin MacLeod (incompetech.com)
Licensed under Creative Commons: By Attribution 3.0
http://creativecommons.org/licenses/b…
Find me at:
Instagram: @deliberately_creative
Pinterest: https://www.pinterest.com/sbergeron00/
Google+: +Deliberately Creative -Stephanie Bergeron
Facebook: Deliberately Creative Https://www.facebook.com/groups/1524859274500385/ Please join our creative discussion! Join our group!
Blog: http://deliberatelycreative.blogspot.com
#CACmember
Copyright info: Videos produced by Stephanie Bergeron (Deliberately Creative Sbergeron00) are intended for private use only. Please contact me for commercial/retail use licensing information. Feel free to embed the videos as is, but please do not alter, remove watermarks, re-upload or otherwise change the original video. Thank you.